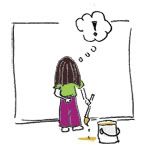 I had to much going on this week. Tons of work, things at D's (my son - not crazy about posting the names or pictures of our kids) school and the regular "whatevers" at home.
I'm dreading tomorrow! It's almost 8:30pm here and as soon as I finish this I'll be crawling into bed because I have to get up at 3:45am...ughhh! I'll be running 11 miles with my training group. In the afternoon I'll start painting a mural at D's school library. A little intimidating since I've never done something quite that large. We'll see how that goes!
I'm also in the middle of making my Xmas cards. About time! We'll see if I can have them finished by the end of the weekend. Kind of doubtful with everything going on.
Pardon the little quick doodles I've been posting lately. No fine art by any stretch of the imagination but it feels weird to post without an image of some sort. Hopefully they're at least a wee bit entertaining.
Have a good one everybody! ;)